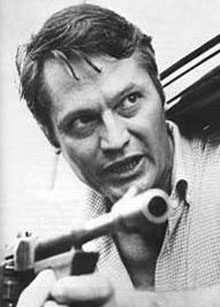 In 1954, Roger
Corman delivered a smash-hit first picture for
Jim Nicholson and Sam Arkoff's new American Releasing Corp. (soon to be renamed American International Pictures). By 1970, he had directed or produced 43 movies for
AIP
, each one of them on budget and highly profitable. By the end of the 60's however,
Corman
wasn't happy with their business arrangement anymore. He felt like he was being shorted on percentages due him from the great,
successful
run of Poe adaptations he had made for
Arkoff
and Nicholson, and he was increasingly uneasy about their penny-pinching ways - which from
Corman's
view, usually meant pinching HIS pennies, and keeping the difference for themselves. The final straw came in 1970 when
AIP
gutted everything that would possibly be controversial from
Corman's
end of the world counter-culture satire
Gas-s-s-s.
Frustrating him further was a less than ideal experience with United Artists that same year with
Von Richthofen and Brown
, which was re-dubbed and edited in post-production. Not one to waste time with a situation that wasn't working for him any more,
Corman
formed his own company.
New World Pictures
was at the forefront of every exploitation trend of the 1970's, and like The
Filmgroup
before it (
Corman's
first independent company back in the early 60's), it proved to be a fertile training ground for a new generation of filmmakers in front of and behind the camera.
Corman
didn't direct a single film, officially, the whole time he ran New World from it's formation in 1970 until he sold it to an investment group made up of Hollywood lawyers in 1983, but his mark is on nearly every in-house film they made. They were all made the
Corman
way - on the cheap and fast on the heels of the next big thing. They also had a rebellious spirit and, whenever they could, some kind of redeeming social (slightly left) statement.
New World went head to head with
AIP
in the early 1970's and frequently came out on top. There was a glut of North
American
screens in need of immediate, cheap, exploitable product, and New World would stand out in a very crowded and ever-changing field right on through the start of the next decade. The other competitors included Dimension Pictures (which was formed by David
Woolner
after splitting from a brief partnership with
NWP
), Crown International, and the
perennial
wild card of the drive-in and grind house circuit, Sam Sherman and Al
Adamson's
Independent-International. Throw in dozens (if not hundreds) of smaller fly by night and one-off operations, plus distributors piping in increasingly more decadent fare from around the world, and the accomplishments of
Corman
and his stock company of irregulars stand out as a considerable achievement.
I'm going to use the occasion of Roger
Corman's
81st birthday, and
The Trashy Movie Celebration Blog-a-

thon
hosted by
The Bleeding Tree
blog to take a run through my favorite New World Pictures releases of the 1970's. This won't be an all-inclusive
filmography
but I'm going to hit all the highlights, as I see 'em, from their first release - Stephanie
Rothman's
The Student Nurses
(1970)
, right on through to the last great New World picture of the decade, the ever-popular
Rock 'n' Roll High School (1979).
Rothman
, her young nurses, and her next film for
Corman
,
The Velvet Vampire (1971)
are the subjects of the first installment of
New World, In Order (more or less).
Please stand by for our first feature...